The Bronx Defenders Joins Rally to Demand Justice in Housing Court!

The Bronx Defenders joined Council Member Mark Levine and the Coalition for Justice in Housing Court on the steps of City Hall on Thursday, June 11th, to rally for the "Right to Counsel" in Housing Court.
A total of 246,864 New Yorkers were served with eviction papers in 2013. Nearly 99% of these tenants were forced to fight the case without the benefit of an attorney.
Councilman Mark Levine, who co-authored the bill with Councilwoman Vanessa Gibson, is quoted in the New York Observer, "We have come together today with one voice to call for fairness in housing court, which today gives us no measure of equal justice in tenant-landlord disputes."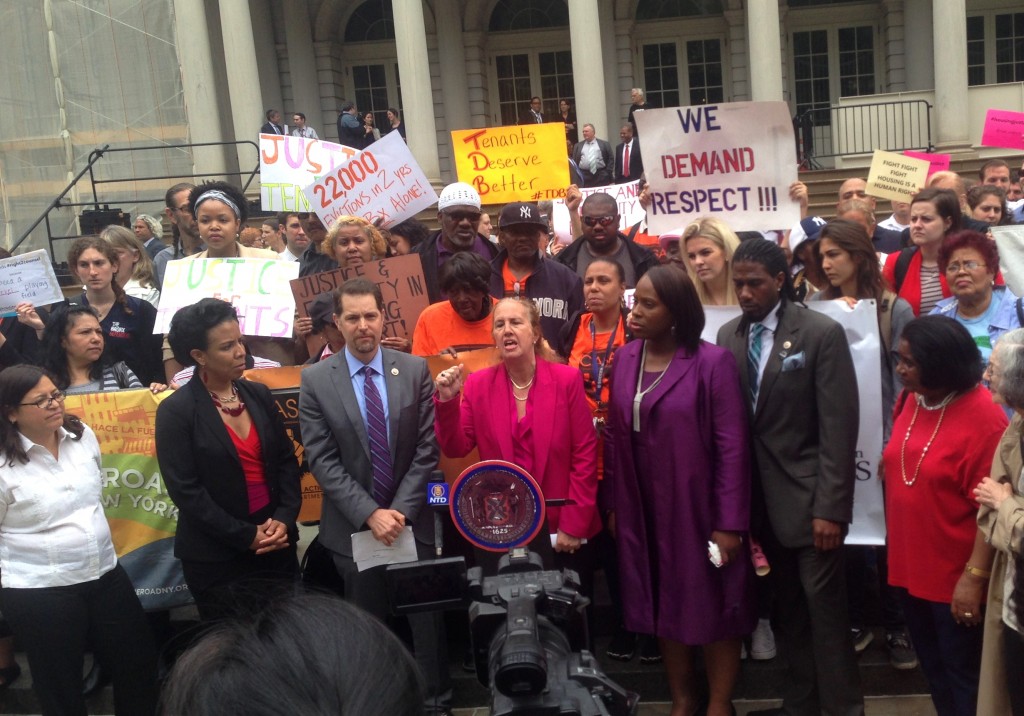 Approximately 50 people attended the rally and press conference to show their support and to ask the City Council to pass Intro 214, a bill that would address these inequities by ensuring tenants have legal representation and equal justice in Housing Court. A total of 52 community-based organizations, activist organizations and service providers – as well as 10 different elected officials – have pledged their support for the passage of Intro 214.
The Bronx Defenders is thrilled to be a part of this movement to bring justice to Housing Court. A special shout out to Bronx Defenders Organizing Project leader Argie, Bronx Defenders advocates Christa Douaihy, Alexandra St. Charles, Sarah Cassel and Walter Rodriguez, and our summer interns Brianna Noonan, Jett Bachman, Nicholle Lamartina, and Ezra Louis who represented The Bronx Defenders on the front lines of the rally!