A New York courtroom gave every detained immigrant a lawyer. The results were staggering.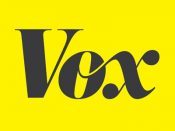 In this investigation, Vox highlights the profound impact the New York Immigrant Family Unity Project (NYIFUP) has on preventing immigrants facing deportation from being separated from their families and community. The Bronx Defenders proudly serves as one of three institutional providers of free representation to detained immigrants in removal proceedings at the Varick Street Immigration Court.
Read the full story here.
Learn more about NYIFUP here.