Ousman Darboe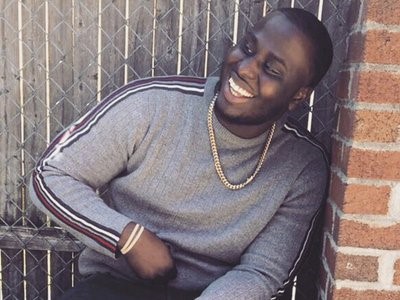 Ousman Darboe is a 28-year-old undocumented Black Muslim man who arrived in the United States from the Gambia as a six-year-old. Fordham Heights in The Bronx has been his home ever since. 
On July 31, 2017, ICE conducted an early morning raid on Mr. Darboe's home and arrested him, taking him away from his home and community and kicking off a drawn-out legal process that continues to this day. 
Mr. Darboe spent the next 3 years in ICE detention, separated from his wife and young daughter. His case has attracted national attention because of how it captures everything wrong with our criminal legal and immigration legal systems and how they center anti-Blackness and separate families and communities. 
In February 2020, he received a rare gubernatorial pardon of his only criminal conviction from Gov. Andrew Cuomo and has enjoyed public support from leaders like Representative Alexandra Ocasio Cortez, Representative Jose Serrano, New York City Comptroller Scott Stringer, New York City Public Advocate Jumaane Williams, City Council Member Carlos Menchaca, New York State Senator Julia Salazar, New York Assembly Member Yuh-Line Niou, the New York congressional delegation, and members of the New York Giants. 
At a bond hearing on September 28, 2020, Mr. Darboe's legal team submitted a petition with signatures from over 7,000 people supporting the #FreeOusman campaign. The considerable energy and pressure worked – after years of litigation, an Immigration Judge ordered Mr. Darboe released from immigration detention. 
None of this would have been possible without considerable support from the NYU Immigrant Rights Clinic in particular as well as Freedom to Thrive, MPower Change, Black Alliance for Just Immigration, Movement for Family Power, Center for Constitutional Rights, the Innocence Project, Brooklyn Community Bail Fund, the RAPP Campaign, Make the Road NY, African Services Committee, the New Sanctuary Coalition, the Immigrant Defense project, and many more. 
Thanks to his release, Mr. Darboe was able to hold his daughter after years of separation, and he's home with his family in The Bronx where he belongs. However, his fight to remain in the United States continues.
The Department of Justice has the ability to drop Mr. Darboe's deportation case and should do so immediately. Until then, the legal fight to ensure he remains in the United States with his family for good and free from harassment by ICE and the DOJ, goes on. 
More information:
Ousman Darboe could be deported any day. His story is a common one for black immigrants,  Shamira Ibrahim (@_ShamGod), Vox, September 2019
Held by ICE Longer Than Any New Yorker, Bronx Man is Finally Freed, Matt Katz, WNYC, September 29, 2020
For Black Immigrants, Police and ICE Are Two Sides of the Same Coin, Ashoka Mukpo (@unkyoka), ACLU, September 3, 2020
Pardoned By Cuomo But Detained By ICE, Bronx Immigrant Marks Three Years In ICE Detention, Matt Katz (@mattkatz00), Gothamist, July 31, 2020
Pardoned By Cuomo But Detained By ICE, Bronx Immigrant Marks Three Years In ICE Detention, Matt Katz (@WNYC), WNYC, July 30, 2020
Why ICE's coronavirus response is so dangerous, Alina Das (@Das_Alina), Quartz, March 25, 2020
Bronx Man in ICE Custody Fighting for Release After Cuomo Pardons His Robbery Conviction, Sydney Pereira (@sydneyp1234), Gothamist, Feb. 10, 2020
Man in ICE custody 1 step closer to reunion with family, News 12 (@News12BX), Feb. 5, 2020
Petition Urging ICE To #FreeOusman [petition is no longer active] 
Second Circuit Court of Appeals Litigation: