BxD's New York Immigrant Family Unity Project Honored at the Families for Freedom 12th Annual Fundraiser

The New York Immigrant Family Unity Project (NYIFUP) was honored last Friday, November 14, 2014 by Families For Freedom at their 12th Annual Fundraiser.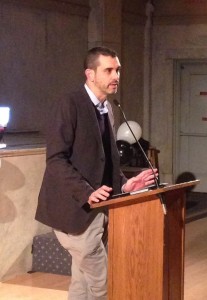 NYIFUP, which is implemented by The Bronx Defenders, Brooklyn Defender Services, and the Legal Aid Society, is the first institutionally-provided public defender program in the country for immigrants facing deportation. NYIFUP aims to provide indigent immigrants facing deportation at New York's Varick Street Immigration Court, as well as New Jersey immigration courts, with free, high-quality legal representation.
The Bronx Defenders Legal Director of Immigration, Isaac Wheeler, accepted the honor on The Bronx Defenders' behalf.
The Bronx Defenders is proud to be a part of this landmark project and to accept this honor from Families for Freedom.