Ashley Kaper gave testimony to the City Council regarding Secure Communities legislation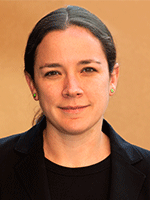 On January 25th, 2013, Ashley Kaper gave testimony at the New City Council in support of proposed legislation limiting New York City's collaboration with Immigration and Customs Enforcement's "Secure Communities" Program.
Written Comments of The Bronx Defenders
New York City Council Committee on Immigration
January 25, 2013
Hearing on:
Int. No. 982, A Local Law to amend the administrative code of the city of New York, in relation to persons not to be detained and
Int. No. 989, A Local Law to amend the administrative code of the city of New York, in relation to persons not to be detained by the Department of Correction
My name is Ashley Kaper, and I am an Immigration Attorney at the Bronx Defenders. I submit these comments on behalf of The Bronx Defenders and thank City Council for the opportunity to testify.
The Bronx Defenders is a community-based public defender service that provides holistic criminal defense, family defense, civil legal services, and social services to indigent people charged with crimes in the Bronx. Each year The Bronx Defenders provides free criminal and civil legal defense to 29,000 people accused of crimes in the Bronx, about one-third of whom are not U.S. citizens.
Since Secure Communities' inception in New York City in May 2012, we have witnessed the devastating impact of the expansion of the Department of Correction's collaboration with Immigration and Customs Enforcement (ICE) both in and out of the courtroom. Clients facing minor charges or unlawful arrests have remained in jail for prolonged periods of time solely as a result of immigration detainers. Additionally, many clients who would otherwise fight the criminal charges pending against them accept pleas of guilt rather than spend months in jail awaiting trial. The result is the prolonged detention and removal of valuable members of our community, many of whom were brought into custody for minor offenses. When a New Yorker is detained and deported, of course, they are not the only ones impacted: their family members, co-workers, friends, and the entire community left behind is also impacted.
We are excited to be here today to testify in support of Intro Number 989 and 982. As we applauded the Committee back in October of 2011 for drafting and subsequently passing Local Law 2011/062, we commend City Counsel for recognizing the continued impact of Secure Communities and working to expand protections for residents of New York City. This new bill will further protect non-citizens who are arrested by permitting release for individuals with certain pending charges and release for people with minor prior criminal contact.
Sherry is one individual who will benefit from the proposed bill. Born in Jamaica, Sherry entered the U.S. in 2007 on a visa. During a verbal dispute with the father of her 4-month-old daughter, the neighbors called the police. In responding to the scene, the police arrested both Sherry and her boyfriend. Sherry had no prior criminal contact. She was working full-time at a small grocer and still breast-feeding her daughter. When she was brought before a criminal court at arraignments an immigration detainer was lodged, revoking the criminal judge's authority release her. Sherry sat in jail for months with the charges pending, separated from her daughter despite the fact that her boyfriend had no intention of pressing charges against her. While the existing law allowed Sherry to ultimately be released once the pending charges were dismissed, this new bill would have prevented months of unnecessary detention and traumatic separation from her child.
David is another client who will benefit from this new bill. Originally from Honduras, David migrated to the United States in the late 1990s and has lived in the Bronx since. In 1999 he was arrested and charged with New York Penal Law 265.01, criminal possession of a weapon, a misdemeanor, for carrying a box cutter he often used while on the job as a superintendent of a residential building. Fearful of being held in jail and encountering problems with immigration, David plead guilty to a misdemeanor at arraignments. In 2012 David was one of five men arrested for a fight that took place in the lobby of his building. David was adamant he was innocent but the arraignment judge nevertheless set bail and an immigration detainer dropped. Five days later, when David appeared again in court the prosecution acknowledged that his arrest was a mistake and the charges were dismissed. Unfortunately, because of his prior misdemeanor conviction, the detainer was honored and David was transferred to immigration custody and subsequently deported. Under the proposed bill, David would have been released and able to return to his job and family within a matter of days.
While the steps City Council is taking today are noteworthy, the overarching power of Secure Communities remains and we call on the City to continue to expand protections for non-citizen residents. Here in the Bronx, we see the use of over-policing through the unlawful and discriminatory stop-and-frisk practice by the NYPD. This policy of the NYPD has resulted in countless illegal arrests with no probable cause, motivated by racial bias and misguided policing practices. There are three pending lawsuits against the City to stop this practice. While earlier this month Federal District Court Judge Shira A. Scheindlin issued a Preliminary Injunction ordering the NYPD to stop illegally arresting people for trespass outside of Clean Halls buildings in the Bronx, it has been common practice for years and continues today. Those arrests have led to innumerable misdemeanor convictions for minor offenses such as trespass or possession of marijuana in plain sight. In fact, when non-citizens have sought advice on the immigration consequences of taking plea offers to trespass offenses, immigration attorneys throughout the City have advised that a trespass misdemeanor is an 'immigration safe' plea. Consequently, many Bronx residents who are non-citizens have pled guilty to trespass offenses within the past ten years. In addition, misdemeanor convictions for marijuana possession also render noncitizens ineligible for release, despite the fact that the Council recognized the problem of misdemeanor marijuana arrests as a result of racial bias in policing with the 2012 resolution calling for the decriminalization of possession of small amounts of marijuana in public. Without broader legislation all of these individuals remain ineligible for release under the proposed bill. We therefore ask that moving forward, City Counsel consider removing the ten year time bar for one prior misdemeanor.
In addition, many clients who immigrate to the United States have contact with immigration at the border that results in outstanding orders of removal. Outstanding deportation orders render all noncitizens ineligible for release under the current law and the proposed expansions, regardless of their criminal records or the outcome of the pending charges. Many of these orders of removal date back decades and were issued without judicial review or due process. In addition, non-citizens with outstanding orders of deportation often entered the country as children and the decision as to whether or not to report to immigration court was made by their guardians. Others may not even be aware that there is an outstanding order of deportation, in cases where notice was sent to outdated addresses, and the individuals have subsequently lived in the United States for years and developed families here. Despite their lack of culpability they remain unprotected from deportation by this law. We therefore ask that City Counsel expand protections to people will prior orders of removal, specifically in absentia orders, expedited removal orders, and removal orders issued against juveniles.
The Bronx Defenders therefore commends the City Council on today's hearing and the proposed legislation. There are hundreds of families in the Bronx who will be helped by the legislation and we look forward to continuing to cooperate with City Council on progressive criminal justice and immigration policy that will benefit immigrant families and all New Yorkers.