NY1 Noticias: La Policía de Bill de Blasio y las minorías de Nueva York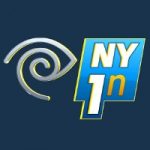 La posesión de pequeñas cantidades de marihuana ya no desembocará en arresto, sino en multa o citación judicial. El concejal de Brooklyn y Queens Antonio Reynoso, Priscilla González, de Comunidades Unidas por una Reforma Policial y Walter Rodríguez, de Bronx Defenders, analizan las políticas policiales del alcalde Bill de Blasio y las relaciones entre la Uniformada y la comunidad latina y afroamericana.
To watch the full interview click here.