Lindsay Ferguson and Jenny Semmel to join panel discussion at John Jay College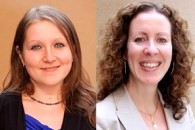 Bronx Defenders Social Worker Lindsay Ferguson and Criminal Defense Attorney Jenny Semmel will join a panel discussion at John Jay College of Criminal Justice, entitled "Mass Incarceration and Its Mental Health Implications," on Thursday, March 19, 2015.
The panel will be chaired by Professor George Adreopoulous, Director of the Center for International Human Rights. Jenny and Lindsay will also be joined by fellow panelists Chelsea Davis from the Vera Institute of Justice Reform for Healthy Communities and Ayesha Delany Brumsey from Public Defense for Persons with Mental Health Disorders.
To learn more about the event and to RSVP click here.