Kate Rubin testified before City Council in support of proposed Office of Civil Justice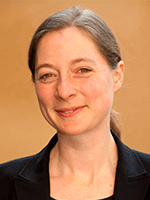 The Bronx Defenders Managing Director of the Civil Action Practice Kate Rubin presented written and oral testimony to the New York City Council Committee on Courts and Legal Services yesterday, April 15, in support of Intro 736, a local law to establish the Office of Civil Justice.
The Bronx Defenders supports Intro 736 because an Office of Civil Justice will help us serve our clients better. At the policy level, a Civil Justice Coordinator could bring together city agencies, the courts, and the City Council—collaborating closely with the Committee on Courts and Legal Services—to implement policy reforms that will both alleviate the need for and sustain the impact of civil legal services. Like the Mayor's Office of Criminal Justice, the Office of Civil Justice could collect and share data from the courts and relevant agencies to inform policy decisions. Most importantly, the Civil Justice Coordinator would expand access to high quality civil legal services for low-income New Yorkers. The office would help ensure that legal providers are positioned to respond to the needs of communities as they change, not only in times of crisis and emergency but in response to opportunities, such as the President's deferred action programs for immigrants.
In performing these duties, especially when evaluating civil legal services needs and gaps in existing services, it is critical that the Civil Justice Coordinator recognize the role played by the full community of providers in meeting the wide-ranging needs of low-income New Yorkers. This includes small programs with deep ties to specific neighborhoods; new and innovative models; and citywide programs that successfully serve clients in multiple boroughs even without physical offices, saving overhead costs and maintaining flexible intake systems by partnering with community-based organizations and elected officials. A city as large, diverse, and rapidly changing as ours needs a broad array of civil legal services providers with the capacity, expertise, and flexibility to meet the needs of low-income New Yorkers.