Emily Galvin to present at Bennington College's Incarceration in America conference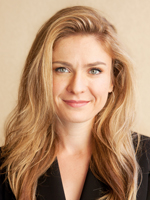 Bronx Defenders Criminal Defense Attorney Emily Galvin will be presenting at Bennington College's second conference in its Incarceration in America series: Effecting Change, on May 15–16, 2015. The conference is part of Bennington's growing Incarceration in America initiative, which includes curriculum, visiting speakers, theatrical events, think tanks, and retreats to develop public policy and political action in the post-tough-on-crime era.
Emily will be speaking a panel on public defense and prisoner's rights on Saturday, May 16. The panel will focus on a few of the key issues we see here in the Bronx on a daily basis, highlighting the degree to which bail impacts the life of a criminal case, and also touching on recent issues involving Rikers Island, such as the studies our office has been doing on solitary confinement, juvenile incarceration, and mental health care.
She will be joined on the panel by Peter Goldberg, Executive Director of the Brooklyn Community Bail Fund, Mark Hale of the Kings County DA's Office, and Karen Murtagh, Executive Director of Prisoners' Legal Services of New York. The moderator will be Glenn Martin from Just Leadership USA.
To learn more about the conference, view the full program here.