BxD's Director of Strategic Initiatives participated in Columbia Law School civil rights panel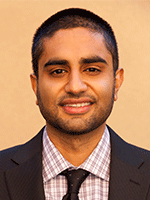 The true lessons of the Civil Rights Act for contemporary lawyers and law students may lie in the citizen engagement that pushed it to the fore, said Kumar Rao, Director of Strategic Initiatives at The Bronx Defenders.
"I like to think that we are part of the legacy of American activists who move to make the country better," said Rao. "It's going to be tough, but it's been tough in the past."
Earlier this fall, on October 30, 2014, The Bronx Defenders Director of Strategic Initiatives, Kumar Rao, participated in a panel discussion on the contemporary legacy of the Civil Rights Act of 1964. The event was part of Columbia Law School's 64@50 series, a yearlong undertaking in which faculty members and students examine how far the nation has progressed on issues of civil rights, while also assessing strategies for addressing the concerns that remain.
Other panelists included Dennis Parker, Director of the ACLU Racial Justice Program; Vincent Southerland, Senior Counsel at the NAACP Legal Defense and Education Fund (LDF); Jin Hee Lee, Senior Counsel at the LDF; and Myrna Perez, Deputy Director of the Democray Program at the Brennan Center for Justice.
To read more about the event click here.