The Bronx Defenders Names Justine Olderman Executive Director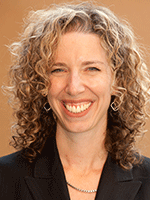 NEW YORK, N.Y. – The Bronx Defenders announced today that Justine Olderman, an experienced attorney with 17 years at the organization, was selected to take the helm from Robin Steinberg as Executive Director.
Olderman is leader in the field of public defense who has held various positions at The Bronx Defenders, including her most recent post as the organization's first Managing Director. As Managing Director, Olderman was responsible for day-to-day operations and oversaw all of the office's practices, including criminal defense, family defense, civil action, immigration, social work, policy reform, and community organizing.
Prior to that role, she served as the organization's first Managing Director of the Criminal Defense Practice and guided the expansion of a group of 40 lawyers, social workers, and investigators handling 12,500 cases a year to a team of more than 100 handling 30,000 cases. Olderman first joined The Bronx Defenders as a staff attorney in 2000.
"Throughout her career, Justine Olderman has exemplified bold leadership and unwavering commitment to improving the delivery of indigent defense," said Earl Ward, Board Chair of The Bronx Defenders. "Her qualifications to serve as Executive Director were many, but four were unmatched: her dedication to clients, her devotion to our vibrant and zealous staff, her experience as an attorney and leader in public defense, and her vision for what lies ahead. We are excited about the future of The Bronx Defenders under Justine's leadership."
"I am profoundly humbled and honored to be named Executive Director of The Bronx Defenders," said Justine Olderman, Executive Director. "From Staff Attorney to Managing Director, I have been privileged to work side by side with Robin to push the boundaries of what a public defender office can and should be. I have had the pleasure of working with incredibly talented advocates to grow this organization into a powerful force for justice. I could not be more thrilled to have been a part of our history and to now have an opportunity to chart the organization's future."
Since being founded in 1997 with a small group of lawyers, an investigator, and a social worker, The Bronx Defenders has grown into a public defense nonprofit of more than 320 advocates that serves nearly 32,000 clients every year. The organization pioneered a holistic defense model established upon interdisciplinary teams that span the criminal, civil, family, and immigration legal practices and social work services.
Contact
Anna Kim, annakim@bronxdefenders.org, 718-838-7890