No Day in Court – a New Report by The Bronx Defenders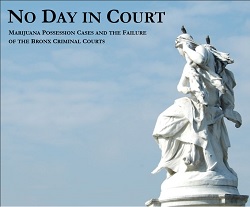 The report, No Day in Court, finds that manufactured marijuana arrests, prosecutorial delay, and an overwhelmed court system all conspire against justice in the Bronx.
New York – Today, The Bronx Defenders released a report that shows that people who are unconstitutionally arrested for marijuana possession every year are consistently denied meaningful access to justice in Bronx courts. The findings have serious implications not just for marijuana cases, but for the tens of thousands of misdemeanor and felony cases that wind their way through the Bronx criminal courts every year. No Day in Court is a follow-up to a 2012 report by The Bronx Defenders that found that over a third of misdemeanor marijuana possession charges in the Bronx were "manufactured" by NYPD officers who falsely charged clients with possessing marijuana in "public view."
The findings of No Day in Court were also cited today in a New York Times article "In Misdemeanor Cases, Long Waits for Elusive Trials" on page A1.
The report draws upon nearly two years of research by attorneys at The Bronx Defenders, in partnership with the law firm Cleary Gottlieb Steen & Hamilton LLP. The Bronx Defenders followed the cases of 54 "fighters" – clients who, outraged by the NYPD's practices, chose to fight their cases. No Day in Court reveals that it is almost impossible for clients to get their day in court, due to the manipulation of the speedy trial statute by prosecutors, systematic pressure to plead guilty, slow case processing, and the requirement that clients be physically present on each court date.
The most significant findings of the study are as follows:
• Not a single hearing on the constitutionality of the NYPD's practice was ever completed, due to delays and pressure from judges to resolve cases before trial, despite the fact that, on average, clients came to court 5 times over the course of 8 months.
• 30% of the cases that were resolved were dismissed outright, but only after an average of 270 days and 5 required court appearances.
• Prosecutorial delay accounted for over 80% of the postponements on hearing and trial dates.
• Four of the 54 cases are still pending in Bronx Criminal Court; one of those cases will have been open 632 days as of the next court date, having already been on for hearings and trial 8 times.
• Clients were often forced to accept a negotiated plea deal because the costs of fighting their cases were too great. Most judges would not excuse clients from personally appearing in court on days when the prosecutors indicated in advance that they were not ready for trial.
• When clients were excused from court, they achieved much better results: their cases were dismissed 56% of the time, compared to only 24% of the time for those who had to appear for every court date.
The study indicates the need for reform of both the NYPD's unconstitutional tactics on the street and Bronx court culture. While marijuana arrests are overwhelming New York City courts – 39,000 people were arrested for low-level marijuana possession in 2012 – judges and prosecutors are consistently denying those who are arrested the right to challenge the police conduct underlying their arrests. The same pattern is seen across the entire spectrum of quality-of-life cases that come before New York City Criminal Courts. Egregious delays severely punish clients wishing to fight their cases: clients are required to return to court time after time for months on end without any opportunity to have their cases heard. Each postponement and new court date means another missed day of work, lost wages, school absence, or child care emergency. An open criminal case can also lead to immediate suspension without pay or termination for clients working in the public sector or in jobs that require state-issued licenses, like security guards or cab drivers. Most clients (understandably) lose their resolve after two or three futile court appearances.
"The courts have largely abdicated their duty to act as a check on police abuses," said Scott Levy, the Project Director of the Fundamental Fairness Project at The Bronx Defenders and the author of No Day in Court. "The results of this report will be unsurprising to anyone who has ever stepped foot in the Bronx Criminal Court, or who lives in an over-policed neighborhood like the South Bronx. Serious reform is long overdue."
For more about No Day in Court, please visit www.bronxdefenders.org.
Contact: Robin Steinberg, The Bronx Defenders, 347-842-1215 or robins@bronxdefenders.org
No Day in Court – A Report by The Bronx Defenders – May 2013
###