MUNCHED, A Disturbingly Hilarious Play – June 27th, 2013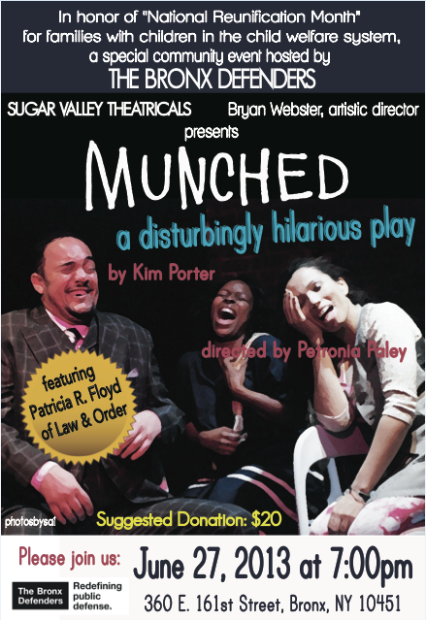 The Bronx Defenders invites you to a very special community event in celebration of National Reunification Month, honoring families who have been involved in the child welfare system. There will be a stage! A piano! And Patricia R. Floyd from Law & Order.
We encourage you to attend and bring friends, family and colleagues. We hope to see you there!
MUNCHED, A Disturbingly Hilarious Play
starring Patricia R. Floyd of Law & Order
June 27, 2013, at 7:00pm
The Bronx Defenders' Community Space
360 East 161st Street, Bronx, NY 10451
$20 suggested donation
To donate online, click here.
A Sugar Valley Theatricals Production
Bryan Webster, Artistic Director
Kim Porter, Playwright
Petronia Paley, Director
If you have any questions or are interested in supporting this event, please contact Caitlin at Caitlinb@bronxdefenders.org.