Diplomatic and Educational Delegation from Singapore Visits The Bronx Defenders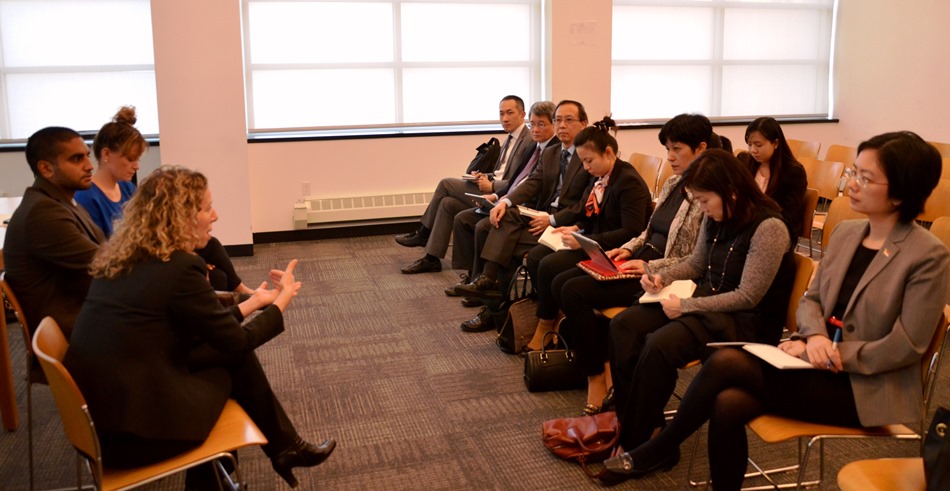 On April 22, 2014, a delegation from the government of Singapore visited The Bronx Defenders Justice Campus to learn more about Holistic Defense. The group, led by Senior Minister of State Indranee Rajah, is planning the development of a practice-focused law school in Singapore. They hope to incorporate aspects of Holistic Defense into the school's clinical program by encouraging an interdisciplinary approach to criminal representation of indigent clients.
After a brief tour of the Justice Campus, the group met in The Bronx Defenders' moot courtroom with Managing Director Justine Olderman, Director of Strategic Initiatives Kumar Rao, and Social Work Supervisor Elizabeth Keeney. Over the course of two hours, the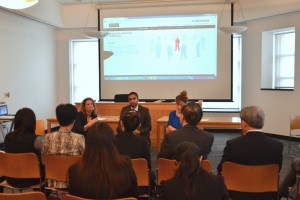 meeting covered the history of The Bronx Defenders, the four pillars of Holistic Defense, social work in the context of Holistic Defense, and The Bronx Defenders' internship and externship programs.
The meeting builds upon The Bronx Defenders' efforts to bring Holistic Defense to attorneys and indigent clients beyond the Bronx. In 2010, The Bronx Defenders created the Center for Holistic Defense – a resource center for public defender offices, individual advocates, policy makers, and others who seek to learn more about Holistic Defense and obtain concrete assistance in adopting holistic defense in their own jurisdictions. With the support of the U.S. Department of Justice Bureau of Justice Assistance, the Center for Holistic Defense conducts both informal and formal training and technical assistance with

several offices each year. This week's visit from the government of Singapore speaks to the need and demand for Holistic Defense not only across the country, but also overseas.