The Bronx Defenders welcomes our 2013 summer interns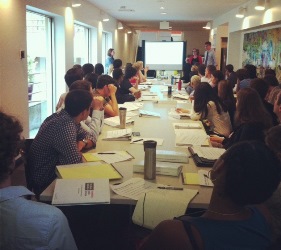 The Bronx Defenders is proud to announce the start of our 2013 summer interns. After a highly competitive selection process, our interns arrived at our offices with a diverse array of experiences and backgrounds.  Through the summer, both our legal and non-legal interns will receive intensive training in Holistic Defense, working alongside our Criminal, Family, and Civil Attorneys, as well as our Social Workers, Policy and Community Organizers and Community Intake team.  Here's to the start of a great summer!
Our legal interns represent law schools from across the city and country, ranging from California to Michigan, and New Orleans to Boston.
Abena Adjin-Doku,  Fordham Law School
Peter Borenstein, Loyola Law School
Ryan Brewer, Cardozo Law School
John Briggs, CUNY Law School
Christopher Britten, Harvard Law School
Devin Conway, Boston University School of Law
Clais Daniels-Edwards, Seton Hall Law School
Luke Fredericks, NYU School of Law
Corina Garcia, American University School of Law
Amanda Gayle, New York Law School
Blake Gifford, Tulane Law School
Sara Ginsburg, University of Michigan Law School
Michael Gluck, Cardozo Law School
Robyn Gordon, Tulane Law School
Joseph Gracely, NYU School of Law
Betsy Henthorne, Georgetown University Law Center
Joseph K. James, Brooklyn Law School
Molly Kammien, Brooklyn Law School
So Kang, NYU School of Law
Hannah Kaplan, CUNY Law School
Daniel Kay, Vanderbilt Law School
Judah Lakin, University of California Berkeley Law School
Cristina Laramee, Cornell University Law School
Melissa Lee, Brooklyn Law School
Lindsay Long-Waldor, NYU School of Law
Malika Lubell-Doughtie, NYU School of Law
Alexa Mayfield, University of San Francisco School of Law
Asia-Sierra Millette, Roger Williams University School of Law
William Moine, University of Pennsylvania Law School
Renagh O'Leary, Yale Law School
Justine Palacios, Tulane Law School
Erin Robinson, Washington University School of Law
Jesse Rockoff, NYU School of Law
Luis Savalza, NYU School of Law
Sarah Shubert, University of Michigan Law School
Tim Sprague, NYU School of Law
Kara Wallis, CUNY Law School
Lisa Waters, Georgetown University Law Center
Jennifer Williams, Stanford University Law School
Christian Yost, Harvard Law School
Aaron Zagory, University of California Berkeley Law School
Pezhmon Zaiim, George Washington University Law School
Therea Zhen, University of California Los Angeles Law School