The Bronx Defenders announces selection of Kate Rubin as Managing Director of Civil Action Practice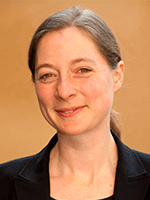 The Bronx Defenders is thrilled to announce the selection of Kate Rubin as the Managing Director of its Civil Action Practice. Kate will oversee a critical component of The Bronx Defenders' groundbreaking holistic defense practice, which provides our clients with the civil legal services that they need to address the devastating collateral consequences of criminal justice involvement.
Kate first came to The Bronx Defenders in 2005 as the Reentry Net Coordinator. In this role, she conducted research, recruited network members, led substantive trainings, and developed materials for the Reentry Net/NY resource library on reentry and the consequences of criminal proceedings in New York State. A project of The Bronx Defenders' Civil Action Practice, Reentry Net/NY is the first ever statewide clearinghouse for practical materials on the consequences of criminal justice involvement.
In 2009, Kate became The Bronx Defenders' Director of Policy & Community Development. In this capacity, she worked with our staff and management team to identify systemic challenges facing our clients and advocate for policy reforms. Under her guidance, The Bronx Defenders' Policy & Community Development Practice has played a lead role in successful reform campaigns spanning a wide range of issues including stop and frisk, charitable bail organizations, access to Certificates of Relief from Disabilities, and changes to the Rockefeller Drug Laws.
Kate will bring her vast knowledge, passion, and dedication to our clients to her new position as Managing Director of the Civil Action Practice at The Bronx Defenders. We all look forward to working with Kate in her new role and realizing justice for our clients and the South Bronx community.