Emma Ketteringham and Elizabeth Keeney to present at 10th National Harm Reduction Conference this Thursday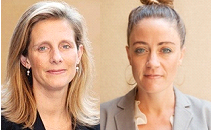 This Thursday, October 23rd, Emma Ketteringam, Managing Director of the Family Defense Practice, and Elizabeth Keeney, Managing Director of Social Work will be presenting at the 10th National Harm Reduction Conference in Baltimore, MD.
The biannual conference, sponsored and organized by the Harm Reduction Coalition, is the only multidisciplinary gathering dedicated to improving the health and well-being of people who use drugs or have a history of drug use. The last conference, in 2012, included more than 800 diverse individuals including: front-line staff, drug users, medical professionals, researchers, sex workers, policy-makers, HIV/AIDS & hepatitis service providers, activists & advocates, youth, formerly incarcerated individuals and other community members from around the country and the world. The conference includes educational workshops, panel sessions and plenaries aim to address the many critical issues affecting the drug user community including overdose, HIV, hepatitis, incarceration and stigma, while also promoting a space for vital networking and sharing.
The Bronx Defenders presentation, which will be led by Emma and Elizabeth, is entitled "Holistic Defense As Harm Reduction: Stories from 161st Street." This workshop will focus on the ways in which holistic defense breaks down traditional barriers between impoverished communities and legal service providers and reduces the punitive harms individuals and families experience because of drug-related allegations in criminal and family court proceedings. Though community organizing and outreach efforts, defending individuals in the courtroom, and partnering with allies at the policy level, The Bronx Defenders' interdisciplinary teams of advocates fight stigma, unfair arrests, incarceration, and enmeshed penalties related to the criminalization of drug use in order to reduce our clients' jail time, reunite them with their families, and minimize the collateral consequences of their criminal justice involvement that impact their housing, employment, benefits, and immigration status.