Thanks to all for making The Bronx Defenders' 2014 Community Block Party a success!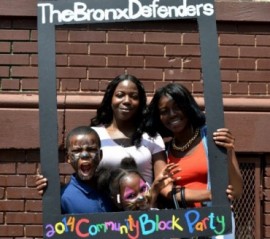 This week, The Bronx Defenders, together with local Bronx partners and community members, hosted its annual block party on East 160th Street in the South Bronx. Over 800 people enjoyed a day of free food, fun, and games, including BBQ and and a bake off, carnival games, pony rides, basketball, dance and music performances, face painting, and arts and crafts. People were also invited to register to vote, and could receive legal and social services information at booths set up at the event and staffed by Bronx Defenders advocates and other community partners.
Every year, we at The Bronx Defenders look forward to this event as a day to connect with the clients and community that drive our work day in and day out. Without the support, energy, and spirit of our clients, their families, and their communities, positive outcomes in and out of the courthouse would not be possible.
A big thank you to all the partners and supporters who helped make the event a success, including Senator Rubin Diaz who stopped by the block party, and Hunts Point Cooperative Market Inc., B. Rosen and Sons, Garden Manor Farms Inc., Pork King, Foodirect, Fancy Foods Inc., Costco, Fairway Market, and F.K. Court Heroes for generously donating meat for the BBQ and raffle prizes.
Thanks also to our partners who ran tables at the event, providing important legal, health and other educational resources to all who came:
Legal Information For Families Today (LIFT)
Mothers on the Move
Milk Not Jails
Brightside Academy
NYC Office of Child Support Enforcement
Morrisania Revitalization Corporation
The Fortune Society
Citizen Action
Day Care Council of NY
Safiya-Nuh Foundation
People's Survival Program
BOOM! Health
Legal Services NYC
Incarcerated Nation Campaign
College and Community Fellowships
NYC Coalition Against Hunger
East Side House Settlement
Morris Heights Health Center
Monroe College
Center for Employment Opportunities
NYC Anti-Violence Project
Housing Court Answers
Mayor's Office to Combat Domestic Violence/Bronx Family Justice Center
Sanctuary For Families
United Healthcare
Argus Community Inc
GreenMarket/GrowNYC
Families for Freedom
Davidson Community Center
Youth Ministries for Peace and Justice
Osborne Association
Correctional Association of NY
BronxWorks
Seedco
NYCLU
Picture the Homeless
Love Heals CASA
STRIVE
Nos Quedamos
Justice Committee
Violence Intervention Program
Center for Constitutional Rights
Girls Educational and Mentoring Services
VOCAL-NY
LawHelp NY
Here's to the rest of a great summer!