Tysha Scott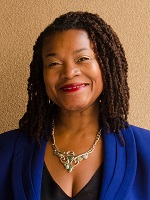 Prior to joining The Bronx Defenders, Tysha spent over 20 years as a Management Consultant in her own consulting business, primarily serving nonprofit organizations, grass roots community groups, colleges/universities and other educational institutions. Her clients included Heritage Health and Housing, Inc., Planned Parenthood of Nassau County, National Urban League, Maurice A. Deane Hofstra University School of Law and Worlddidac, Inc., Bern, Switzerland. As a Management Consultant, Tysha was engaged in various aspects of development including fundraising, board development, strategic planning, event planning and individual, corporate and prospect outreach. She provided management consulting services to organizational boards, executive leadership and development staff.
Prior to her consulting work, Tysha worked at New York Cares as Senior Director of Corporate Relations and Director of Corporate Volunteer Programs where she raised over $10 million. She was part of the initial management team for New York Cares. Tysha created the Corporate Volunteer Program at New York Cares and served as the first Director.
Tysha served as a Board Member for the Children's Art Carnival and Westbury Friends School, where she chaired the Board's Fundraising and Marketing Committee. She's taught courses in fundraising at the Foundation Center in New York City. Tysha is a graduate of Boston University with honors. Tysha's volunteer initiatives include her Theater for Life Development Program. Born out of efforts to engage young women of TAP Teens (Teenagers Against Pregnancy) of Planned Parenthood to express themselves in varied art forms and community service – using theater as a catalyst for positive change.