Robyn Mar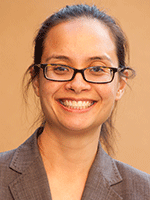 Robyn Mar is the Chief Practice Officer at The Bronx Defenders. In that capacity, Robyn oversees the office's direct service practice areas, including criminal defense, family defense, immigration, social work, and advocacy in housing, employment, and other civil matters.
Before becoming Chief Practice Officer, Robyn served in a variety of roles in the Criminal Defense Practice at The Bronx Defenders, including as a staff attorney, practice supervisor, Director of Early Advocacy, and Deputy Managing Director, as well as an interdisciplinary training team leader. Robyn has also taught Persuasion and Advocacy at Seton Hall University School of Law as an adjunct professor.
Robyn graduated from New York University School of Law and Columbia University. At NYU, Robyn participated in the Juvenile Defender Clinic, representing children accused of crimes in the Bronx, and the Capital Defender Clinic, served as an Executive Editor of the Review of Law & Social Change, and was a teaching assistant for the late Professor Derrick Bell.