Jenn Rolnick Borchetta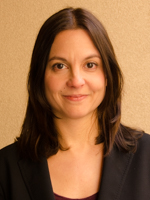 Jenn is a civil rights lawyer with extensive experience managing high profile matters and leading coalitions on local and national reform efforts. As the Managing Director of the Impact Litigation Practice, she develops and leads a civil rights practice within The Bronx Defenders to reform widespread injustices facing low-income people in the Bronx. She builds and litigates a docket that covers varied civil rights issues, including racial and gender equity, economic fairness, immigrant rights, LGBTQ rights, and fundamental freedoms.
Prior to joining The Bronx Defenders, Jenn represented plaintiffs in federal and state court litigation across the United States, working to hold police accountable for misconduct, to protect freedom of protest and voting rights, and to combat racial and gender discrimination. Among other high profile cases, Jenn served as a lead attorney for the plaintiffs in Floyd v. City of New York, which proved the New York City Police Department's use of the stop and frisk tactic was unconstitutional and racially discriminatory. Jenn is frequently quoted in the press and has appeared on television and radio.