Carmen Isaura Rodriguez Arroyo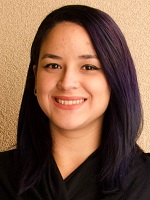 Carmen Isaura graduated magna cum laude from the University of Puerto Rico School of Law, where she received the Dean's Award for academic excellence and for her leading role as spokesperson for the Employment Law and Worker's Rights Pro Bono Program. She focused her pro bono work on human trafficking issues and the exploitation of immigrants in the workplace. During law school, she interned at the Puerto Rico Court of Appeals, collaborated with private immigration attorneys on removal hearings and was an Access to Justice teaching assistant for the Hon. Luis F. Estrella Martínez, Associate Justice of the Supreme Court of Puerto Rico. She was also a student attorney for the UPR Law Immigration Legal Aid Clinic during her final year. Carmen received her B.A. in Anthropology, focusing her seminar work on prostitution in the trans community in San Juan. She is a native Spanish speaker and is proficient in French.
*Not yet licensed to practice in New York. Licensed to practice in Puerto Rico.