Amreeta Mathai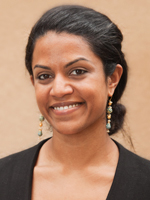 Amreeta is a Co-Training Team Leader at the Bronx Defenders and a staff attorney in the Civil Action Practice. She is also a lecturer-in-law at Columbia Law School via the Bronx Defenders' Holistic Defense Externship Program.
Prior to joining the Bronx Defenders, Amreeta served as a law clerk to the U.S District Court Judge Ivan L. R. Lemelle of the Eastern District of Louisiana. In that capacity, she also served Judge Lemelle while he sat by designation for the U.S. Courts of Appeal for the Fifth and Ninth Circuits. While interning at the ACLU's National Security Program, Amreeta worked on the program's no-fly litigation and 4th Amendment suits challenging TSA stop and seizure practices. She worked on race, gender, age and disability discrimination claims in the work place with plaintiffs' side firm Vladeck, Raskin & Clark, P.C. She also worked on Alien Torts Statute litigation in South Africa with Harvard Law School's Human Rights Clinic.
Amreeta received her J.D. from Harvard Law School where she was the President of the South Asian Law Students Association and a board member of the Law and International Development Society. She holds an MPhil in International Development from the University of Oxford where she received a Bursary Scholarship for Academic Excellence. Amreeta graduated on the Dean's List and Phi Beta Kappa from the University of Chicago with an honors B.A. in South Asian and South East Asian History. While at the University of Chicago, Amreeta was a founding member of the Free Burma Project and organized delegations of students and faculty to research opposition movements along the Thai-Burma border.